`
The latest update to this website was Sunday at 832am (HST)

Air Temperatures – The following high temperatures (F) were recorded across the state of Hawaii Saturday…along with these low temperatures Sunday morning: 
81 – 69  Lihue AP, Kauai
85 – 68  Honolulu AP, Oahu
85 – 64  Molokai AP, Molokai
87 – 65  Kahului AP, Maui 
84 – 74  Kona AP, Hawaii
83 – 70  Hilo AP, Hawaii 

Here are the latest 24-hour precipitation totals (inches) for each of the islands as of Sunday morning:

0.01  Waiakoali, Kauai
0.07  Luluku, Oahu
0.01  Molokai 1, Molokai
0.01  Lanai City, Lanai
0.02  Kahakuloa, Maui
0.91  Honolii Stream, Big Island

The following numbers represent the strongest wind gusts (mph) as of Sunday morning:

08  Port Allen, Kauai
10  Palehua, Oahu
12  Makapulapai, Molokai
16  Lanai 1, Lanai
12  Kahului Harbor, Maui
16  Kealakomo, Big Island

Hawaii's Mountains – Here's a link to the live webcam on the summit of our tallest mountain Mauna Kea (~13,800 feet high) on the Big Island of Hawaii. Here's the webcam for the (~10,023 feet high) Haleakala Crater on Maui. These webcams are available during the daylight hours here in the islands, and at night whenever there's a big moon shining down. Also, at night you will be able to see the stars, and the sunrise and sunset too…depending upon weather conditions.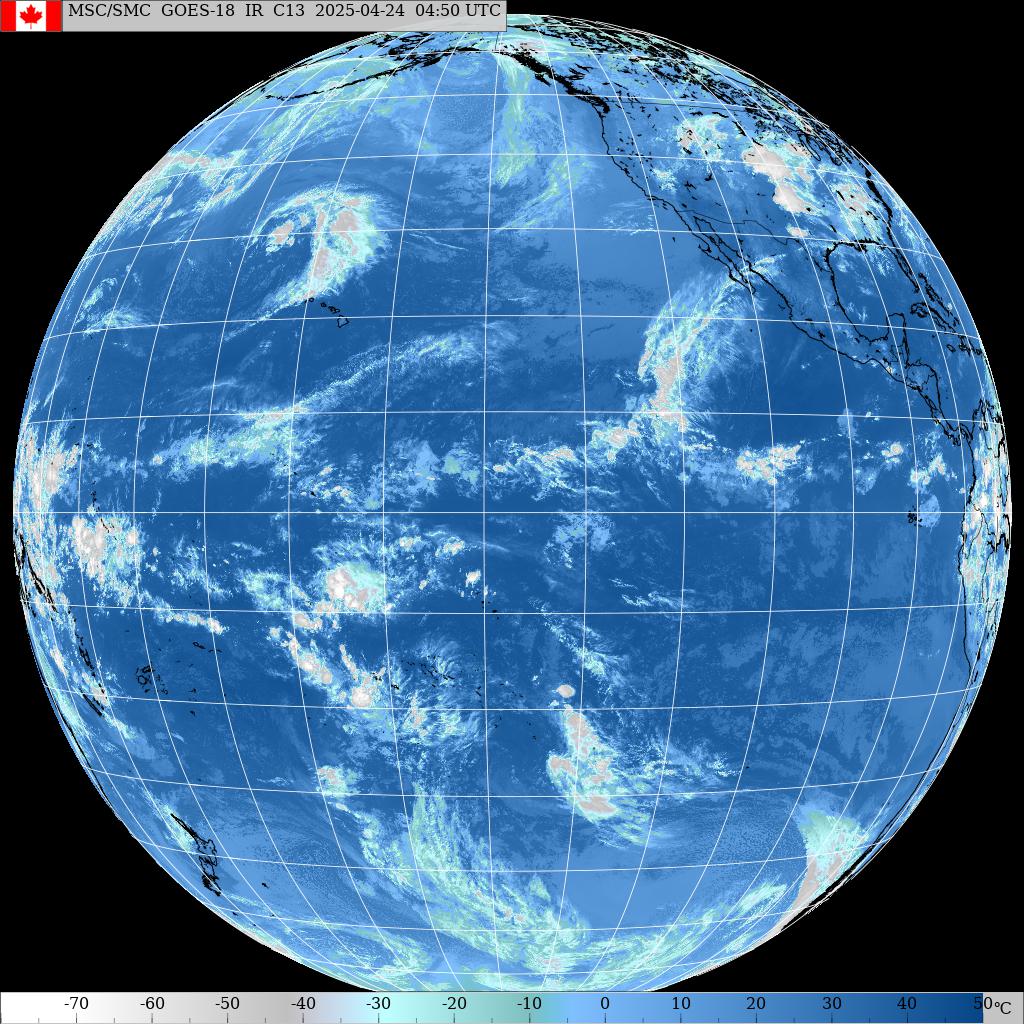 Big Blue…click twice for largest version
Thunderstorms far south-southeast in the deeper tropics
(click for larger version)

Middle level clouds moving away

Variable lower level clouds arriving along the windward sides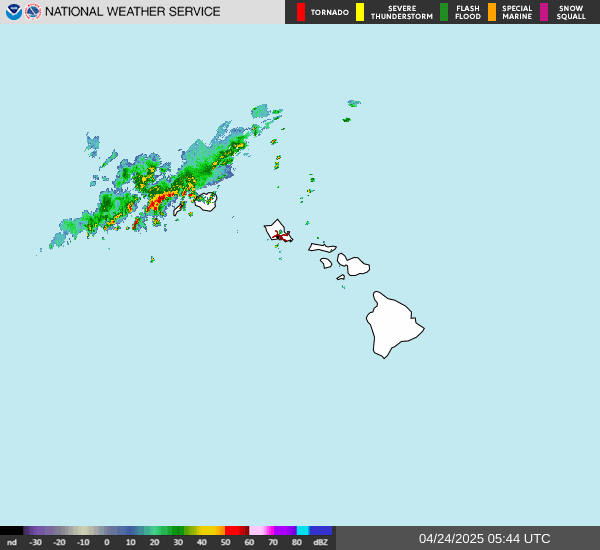 Passing showers locally…very few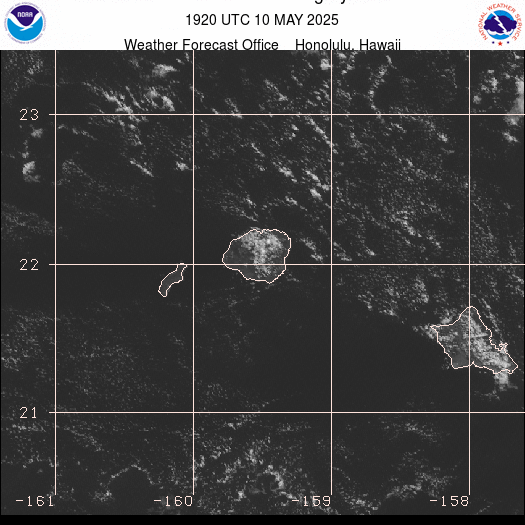 Kauai and Oahu (Satellite)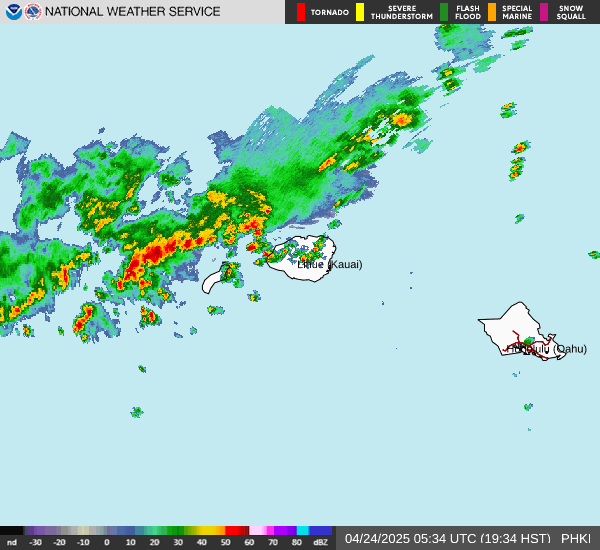 Kauai and Oahu (Radar)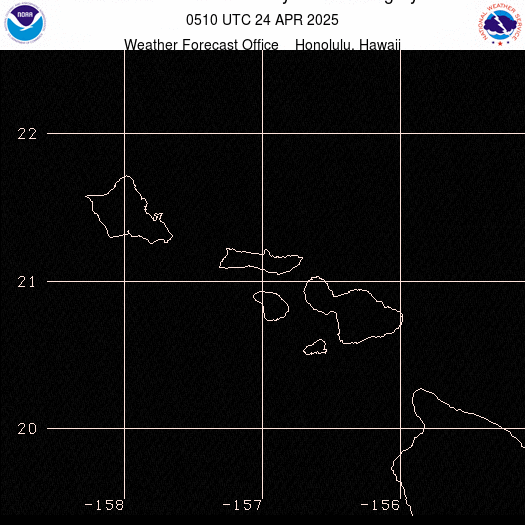 Oahu and Maui County (Satellite)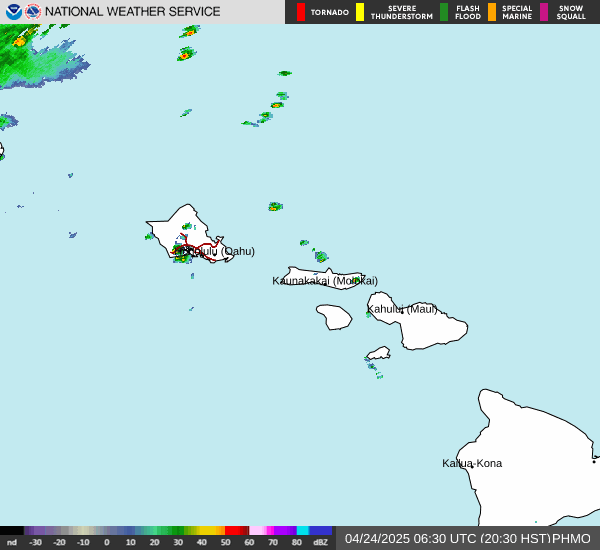 Oahu and Maui County (Radar)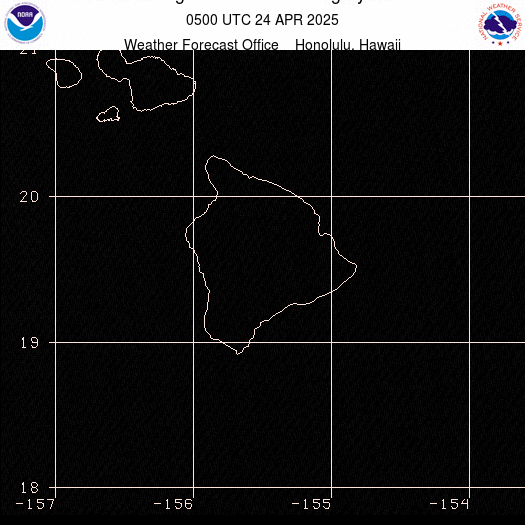 Maui, Kahoolawe, Lanai, and the Big Island (Satellite)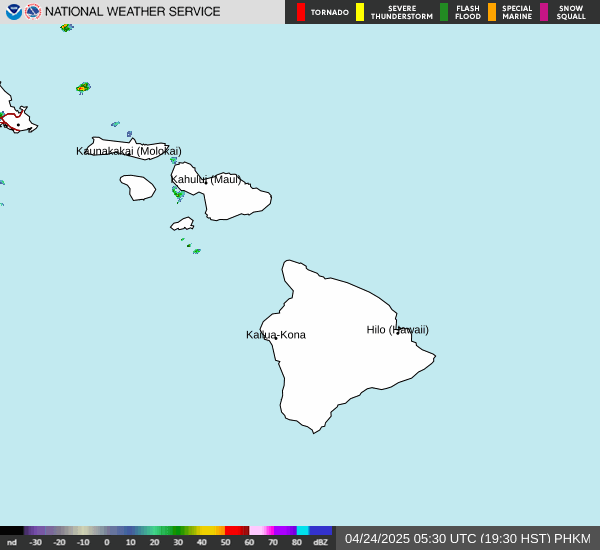 Maui County and the Big Island (Radar)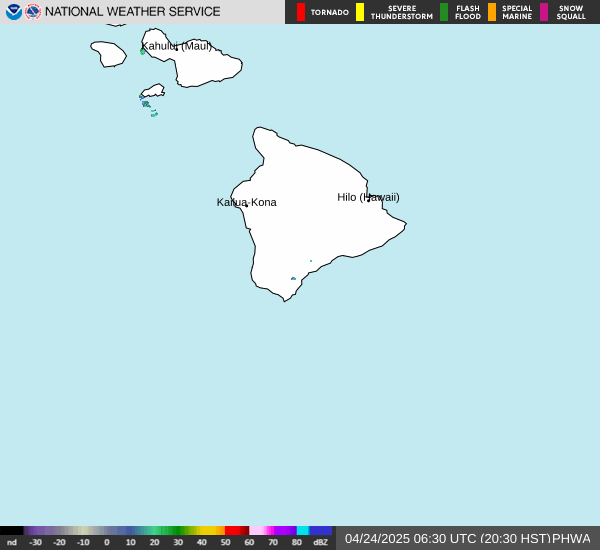 Big Island (Radar)
Model showing precipitation through 8-days (you can slow this animation down)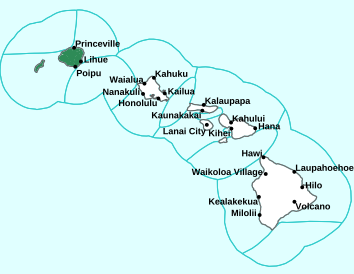 Please open this link to see any current Watches, Warnings and Advisories noted above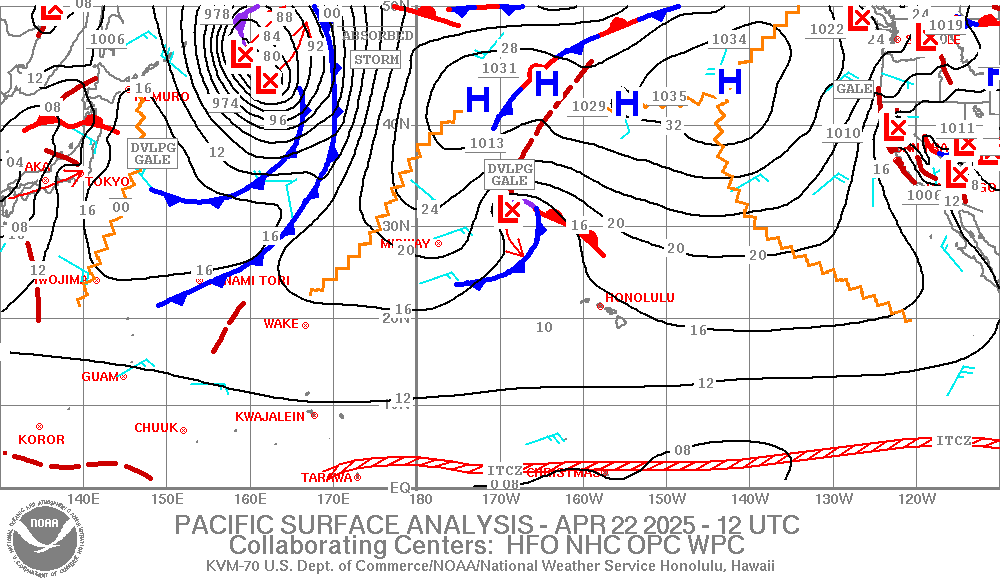 ~~~

Hawaii Weather Narrative ~~~
Glenn's Sunday comments: I'm home here in upper Kula, Maui, Hawaii

Good day everyone, I hope you have a great Sunday wherever you happen to be spending it.
It's mostly clear here at my place, with a low temperature of 53 degrees.

Hawaii's Broad Brush Weather Overview:  The trade winds will gradually strengthen the next couple of days, carrying a few windward showers. Trade wind speeds will likely peak on Tuesday, becoming locally strong and gusty.
Winds will diminish and become light Thursday and Friday as a cold front approaches, with continued limited rainfall. The front will likely dissipate near the islands over the weekend, with light to moderate trade winds returning.
Hawaii's Weather Details:  After a recent period of beneficial rainfall, island weather will be on the drier side over the next week…especially over leeward areas.
Light (to locally moderate) trade winds are carrying a cluster of low clouds and showers to windward portions of the Big Island and Maui, while the remainder of the state is under mostly clear skies. Wettest locations in windward Big Island received about .50″-.75″ of rain overnight.
The clouds appear rather innocuous in infrared imagery, but surface observations indicate low cloud bases with embedded areas of light to moderate rain and low visibility. This area of clouds is expected to weaken as it moves west today, but will bring a chance for windward showers… especially to Maui and Hawaii Counties.
The trade winds are being supported by surface highs to the distant northwest and northeast, while a weakening and lingering trough northwest of Kauai is keeping the local pressure gradient on the looser side. As the trough weakens and the high to the northwest moves east through Monday, trade winds will gradually strengthen.
Trades will likely be strongest on Tuesday as the high passes north of the islands, with the potential for a Wind Advisory, where winds are most accelerated by terrain. The high will push a frontal cloud band toward the islands from the north, but guidance indicates it will stall north of Kauai.
A trough aloft is currently over the east end of the island chain, but will soon be replaced by a ridge aloft building in from the west. Thus, the strengthening trade winds are not expected to bring much more than a few brief windward showers that favor nights and mornings.
Late Wednesday and Thursday, developing strong low pressure to the north will force the high eastward, with the associated ridge extending over the islands from the northeast. Winds will weaken and become light and variable through Friday, as a front associated with the low approaches from the northwest, with continued mostly dry weather expected.
This late autumn cold front may bring a brief period of increased showers to Kauai and Oahu early next weekend before dissipating, with light to moderate trade winds and limited showers returning thereafter.
>>> Here's a near real-time Wind Profile of the Pacific Ocean – along with a Closer View of the islands  / Here's the Volcanic emissions (Vog) map
Marine Environmental Conditions:  Weak ridging north of the state has maintained a lax pressure gradient over the local waters…resulting in light to gentle trade winds. Weak high pressure to the north will allow this lighter trade pattern to remain unchanged through Monday.
A better established area of high pressure northwest of the islands builds in behind a hurricane force low, that will be tracking due east across the North Pacific into the Gulf of Alaska through early Monday. This set up will tighten the pressure gradient, and ultimately restrengthen trades from fresh to locally strong magnitudes Tuesday afternoon.
These speeds will hang on through Wednesday before backing-off again in response to the high north of the islands moving east, and being replaced by an area of low pressure. This low may be far enough south to drag a very weak, diffuse front into the waters by next weekend.
A potentially large swell created by the hurricane force low, will send a large enough swell into our offshore waters Monday, to prompt Small Craft Advisories (for seas) by as early as tonight. This will occur just before the period of strong trade winds commences Monday night into early Tuesday, across the typical windier waters surrounding Maui County and Big Island.
The High Surf Advisory (HSA) has been extended in time for the north and west-facing shores of the smaller islands, and is now in effect through Monday afternoon. This is a result of the passing northwest (320 degree) swell. Recent nearshore buoy observations indicate that this swell is already a couple of feet above guidance.
This swell will peak and result in solid HSA level surf through Monday, as it's forecast to be slow to subside. The next north-northwest (330-350 degree) swell will be on the heels of this swell, generated from the hurricane force low mentioned above, and is scheduled to arrive late Monday and peak Tuesday.
This large will likely drive surf heights to above High Surf Warning thresholds Tuesday. This large swell should slowly decline Tuesday night through the remainder of the week, as it veers more northerly. Strengthening trades should increase eastern exposure chop and lead to rough surf  Tuesday into the middle of the week.
Small swells leading to very small surf, will continue along south-facing shores throughout the week.


World-wide Tropical Cyclone Activity
Atlantic Ocean: There are no active tropical cyclones
Caribbean Sea: There are no active tropical cyclones
Gulf of Mexico:  There are no active tropical cyclones
Northeastern Pacific: There are no active tropical cyclones
Here's the link to the National Hurricane Center (NHC)
North Central Pacific:  There are no active tropical cyclones
Northwest Pacific Ocean:  There are no active tropical cyclones

Southwest Pacific Ocean:  There are no active tropical cyclones
North and South Indian Oceans: 
Tropical cyclone 08B (Michaung)…is located approximately 699 NM south-southwest of Kolkata, India

Arabian Sea:  There are no active tropical cyclones

Here's a link to the Joint Typhoon Warning Center (JTWC)
>>> Here's a link to the Pacific Disaster Center's (PDC Global) Weather Wall website
Interesting:  New Project Investigating How Aerosols Could Affect Climate Change in Near Future

A researcher from The University of Texas at Austin has received a grant from the National Oceanic and Atmospheric Administration (NOAA) to study how changing aerosol pollution could influence climate change in the United States in the coming decades.
Aerosols are tiny solid particles and liquid droplets that contribute to smog and are emitted from industrial factories, power plants and vehicle tailpipes, as well as natural sources like volcanic eruptions. These small particles can influence the Earth's climate by reflecting or absorbing sunlight and changing the behavior of clouds.
Geeta Persad, an assistant professor at the UT Jackson School of Geosciences, is lead researcher. Persad and her team will use one of NOAA's leading climate prediction models, SPEAR, to project how future climate hazards across the U.S. — such as floods, fires and drought — could be impacted by different aerosol emission scenarios over the coming decade.
Read more at: University of Texas Austin
A smoggy day in Los Angeles. Smog consists of aersols that can have wide-ranging impacts on climate change effects.
Leave a Reply