The last update to this website was at 703am (HST) Monday, October 3, 2022

Air Temperatures – The following high temperatures (F) were recorded across the state of Hawaii Sunday afternoon…along with these low temperatures Sunday morning: 
80 – 72  Lihue AP, Kauai
83 – 74  Honolulu AP, Oahu
77 – 72  Molokai AP
88 – 70  Kahului AP, Maui
87 – 75  Kona AP, Hawaii
85 – 67  Hilo AP, Hawaii 

Here are the latest 24-hour precipitation totals (inches) for each of the islands Monday morning: 

5.54  Mount Waialeale, Kauai
1.56  Punaluu Stream, Oahu
1.06  Puu Alii, Molokai
0.54  Lanai
0.03  Kahoolawe
5.95  West Wailuaiki, Maui
0.32  Lower Kahuku, Big Island
The following numbers represent the strongest wind gusts (mph) Monday morning: 

09  Port Allen, Kauai
21  Kuaokala, Oahu
12  Molokai AP, Molokai
23  Lanai
15  Kahoolawe
16  Maalaea Bay, Maui
13  PTA West, Big Island
Hawaii's Mountains – Here's a link to the live webcam on the summit of our tallest mountain Mauna Kea (~13,800 feet high) on the Big Island of Hawaii. Here's the webcam for the (~10,023 feet high) Haleakala Crater on Maui. These webcams are available during the daylight hours here in the islands, and at night whenever there's a big moon shining down. Also, at night you will be able to see the stars, and the sunrise and sunset too…depending upon weather conditions.
Cold front stalling over the eastern islands


High clouds clipping the Big Island


Some thunderstorms in the vicinity

Showers locally and offshore…a few are heavy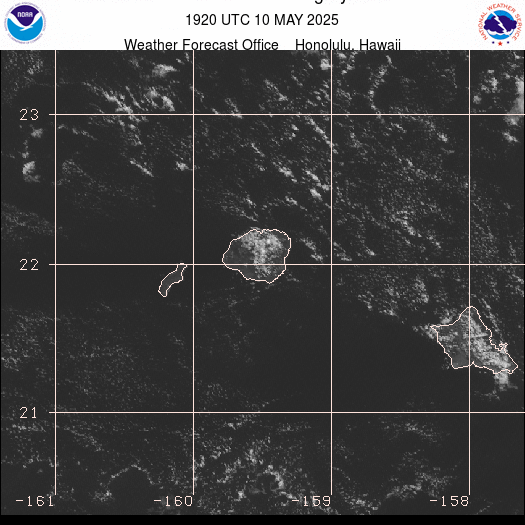 Kauai and Oahu (Satellite)

Kauai and Oahu (Radar)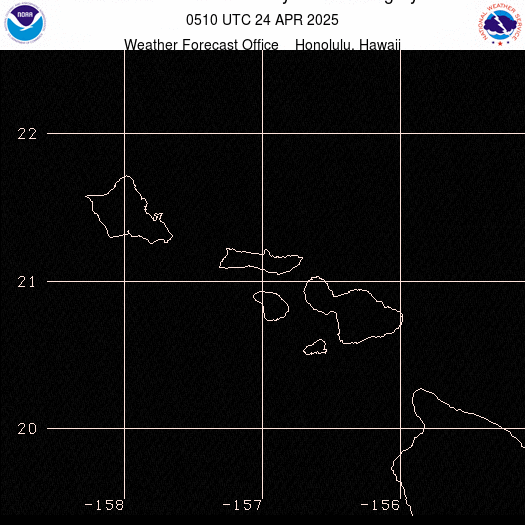 Oahu and Maui County (Satellite)

Oahu and Maui County (Radar)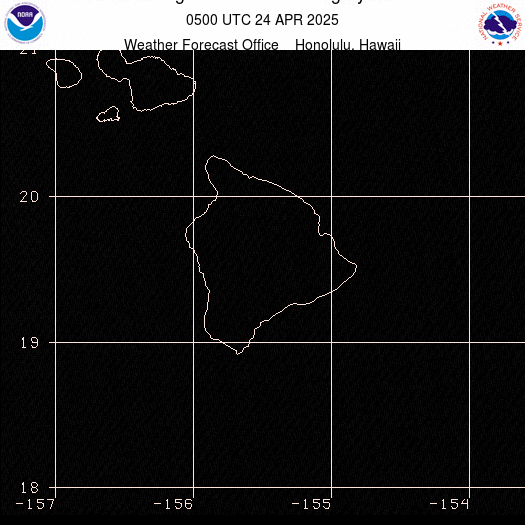 Big Island and Maui (Satellite)

Maui County and the Big Island (Radar)

Big Island (Radar)
Model showing precipitation through 8-days (you can slow this animation down)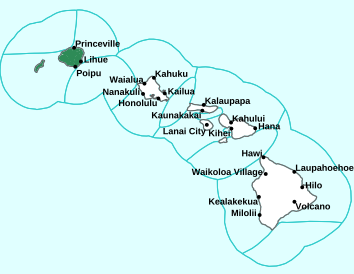 Please open this link…to see current Watches, Warnings and Advisories noted above



~~~

Hawaii Weather Narrative ~~~
Glenn's Monday comments: I'm here in Long Beach, California, and the low temperature this morning was 55.5 degrees, with clear skies for a change. A bit later in the morning we had a few scattered clouds trying to move inland from the ocean, although they made only a little progress…before dissipating.

The high temperature today here in Long Beach is forecast to be 81 degrees.
The big thing for me today is that I'll be getting a Power of Attorney, so that I can conduct all the business on behalf of my Mom. My Mom and I, before she became bed bound, did all the paper work necessary, so that I could be in charge of all the banking matters as well.
Hawaii's Broad Brush Weather Overview: A nearly stationary frontal boundary continues to weaken over Maui and the Big Island, producing extensive clouds and enhanced showers. The highest rainfall amounts are forecast over windward and mountain areas.
Moderate northeast trade winds are filling in behind the front as it passes through each island. This front will fade away by Tuesday.
Drier and more stable conditions set up over the western end of the state from Wednesday through Friday, while a wet pattern will continue for the Big Island and east Maui, as a passing low level disturbance pulls up tropical moisture from the southeast into the weekend.
Hawaii's Weather Details: Isolated thunderstorms are mainly south and west of the island of Kauai. Enhanced shower activity will continue for Maui and the Big Island, with periods of moderate to locally heavy shower activity. More stable cumulus clouds just north of the front support drying trends over the smaller islands.
Kauai, Oahu and Molokai will see trade winds and gradual improving weather, as the front drifts further south, with drier and more stable air filtering in from the north. Northeast trade winds will also reach Maui by Tuesday as the front dissipates. Enhanced showers will linger over the windward Big Island and East Maui through Tuesday.
Looking ahead, from Wednesday through Sunday we'll find a high pressure ridge building over the state of Hawaii, which will lower the trade wind inversion heights, limiting cloud tops and shower activity statewide, in a light to moderate trade wind pattern for most islands.
Sea breezes will develop over terrain sheltered western slopes of each island. The exception to this forecast will develop over the Big Island from Thursday to Friday, where a low level trough will pass south of the state, dragging deep tropical moisture northwestward into the Big Island.
This deeper unstable moisture will mainly increase shower activity over the Big Island for both windward and leeward areas Thursday into Saturday. However there's a chance that this additional tropical moisture may drift far enough north to enhance showers over windward areas of the smaller islands Friday into the weekend…time will tell.
>>> Here's a near real-time Wind Profile of the Pacific Ocean – along with a Closer View of the islands / Here's the latest Weather Map.  Here's the animated volcanic emissions graphic
Hawaii's Marine Conditions:  A weakening front is stalling across the central Hawaiian waters. More numerous showers and an isolated thunderstorm may occur along this diffuse boundary as it wavers and dissipates near the islands. Moderate winds behind the front will be gentle or moderate trades during the remainder of the week.
A couple of small to moderate size swells can be expected from around the northern half of the compass this week. An ongoing small north swell is slowly declining. A slightly larger north-northeast swell will begin arriving and peak surf along north shores Tuesday. North surf is not expected to reach High Surf Advisory levels through Thursday.
In tandem with this northeast swell, a small northwest swell will pass through Tuesday into Wednesday morning. As both of these swells subside Wednesday, a moderate size northwest swell will reach the islands Thursday and peak north shore surf to possibly double head high heights Friday and Saturday.
A small south swell will continue to fill in and peak, then lower gradually through the middle of the week. Mainly low south swell energy later this week, with a slightly larger bump in south swell expected Friday or Saturday.
As a result of weaker trades over and upwind of the state, eastern wind wave chop will remain rather small. Any slight increase in west or east shore surf will come from north swell wrap.

Hawaiian Hula Dancers
World-wide Tropical Cyclone Activity
Atlantic Ocean: There are no active tropical cyclone

Eastern Tropical Atlantic:
An elongated area of low pressure located a few hundred miles south-southwest of the Cabo Verde Islands continues to produce disorganized showers and thunderstorms. Environmental conditions are forecast to be favorable for some gradual development, and a tropical depression is likely to form around the middle part of this week. Further development will become less likely by the end of the week due to increasing upper-level winds. The system is forecast to move westward, then turn northwestward or northward by the end of the week over the eastern tropical Atlantic.
* Formation chance through 48 hours…medium…50 percent
* Formation chance through 5 days…high…70 percent
East of the Windward Islands:
Showers and thunderstorms associated with a tropical wave located several hundred miles east of the southern Windward Islands have become slightly better organized since yesterday. Some further development of the wave is possible, and a tropical depression could form within the next few days while it moves generally westward at 15 to 20 mph, reaching the Windward Islands and the eastern Caribbean Sea by midweek. Interests in the Windward Islands should monitor the progress of the system.
* Formation chance through 48 hours…low…30 percent
* Formation chance through 5 days…medium…40 percent
Caribbean Sea:  There are no active tropical cyclone
Gulf of Mexico: There are no active tropical cyclone
Eastern Pacific:
Tropical Cyclone 16E (Orlene)…is located about 45 miles south-southeast of Mazatlan, Mexico

CENTER OF ORLENE NEARING THE COAST OF SOUTHWESTERN MEXICO…STRONG WINDS, HEAVY RAINFALL, AND A DANGEROUS STORM SURGE SPREADING ONSHORE
Orlene is moving toward the north near 9 mph (15 km/h), and a general northward to north-northeastward motion is expected to continue over the next day or so. On the forecast track, the center of Orlene will reach the coast of mainland Mexico within the warning area this morning. Maximum sustained winds are near 100 mph (155 km/h) with higher gusts. Little change in strength is expected before Orlene reaches the coast. Rapid weakening is forecast after Orlene moves onshore, and the system should dissipate tonight or Tuesday. Hurricane-force winds extend outward up to 15 miles (30 km) from the center and tropical-storm-force winds extend outward up to 90 miles (150 km).
South-Southwest of the Baja California Peninsula:
Showers and thunderstorms associated with an area of low pressure located several hundred miles south-southwest of the southern tip of the Baja California peninsula have become more concentrated overnight. However, the thunderstorms are currently displaced to the southwest of the low-level center. Only a slight increase in organization would result in the formation of a tropical depression later today or tonight while the system moves slowly northward-northwestward or northward.
* Formation chance through 48 hours…high…80 percent
* Formation chance through 5 days…high…80 percent
South of southern Mexico:
A broad area of low pressure located several hundred miles south-southwest of the Gulf of Tehuantepec is producing disorganized showers and thunderstorms. Environmental conditions are forecast to be somewhat conducive for gradual development during the next several days. The low is forecast to move generally west-northwestward during the next couple of days, but could turn northwestward toward the end of the week.
* Formation chance through 48 hours…low…20 percent
* Formation chance through 5 days…low…30 percent
Here's the link to the National Hurricane Center (NHC)
Northwest Pacific Ocean: There are no active tropical cyclones

South Pacific Ocean: There are no active tropical cyclones
North and South Indian Oceans / Arabian Sea: There are no active tropical cyclones

Here's a link to the Joint Typhoon Warning Center (JTWC)
>>> Here's a link to the Pacific Disaster Center's (PDC Global) Weather Wall website
Interesting:  Better Predictions on Rise of Oceans on Warming Earth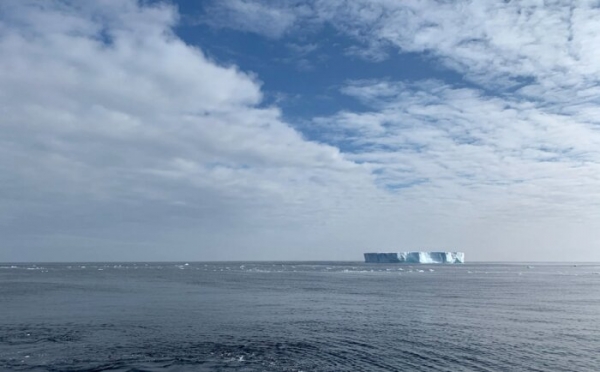 When glacial ice sheets melt, something counterintuitive happens to sea levels. Logic might suggest that nearby levels would rise, but instead they fall. Thousands of miles away, however, they do go up in a kind of seesaw effect. Why? The answer is that water disperses away owing to the loss of gravitational pull toward the ice sheet.
The patterns of how that happens are called sea level fingerprints, since each incidence is unique. Elements of the concept — which lies at the heart of the understanding that global sea levels don't rise uniformly…have been around for more than a century, and modern sea level science has been built around it.
But there's long been a knowledge gap in the widely accepted theory. A sea level fingerprint has never definitively been detected by researchers.
A team of scientists — led by Harvard alumna Sophie Coulson and including Harvard geophysicist Jerry X. Mitrovica — believe they have detected the first. The findings are described in a new study published Thursday in Science.
The work validates almost a century of sea level science and helps solidify confidence in models predicting future changes, projections that have grown more important on the warming planet.
Read more at Harvard University
Leave a Reply